Our Lady of Victory Maronite Church has recently decided to take part in the new digital era. The world now has become so small thanks to the new technology: the vast landscapes spread across the globe have become virtually one large land, and the different languages, mindsets and cultures that were once perfect strangers, have become related in one way or another. Technology has built bridges between nations and made communication more possible. Major companies from all around the world have taken advantage and made use of the available sophisticated means of development to speed up their workflow, improve productivity and achieve better results. Adapting the same strategies and techniques that these companies use, adjusting them according to necessary liturgical purposes and applying them where and as needed, religious institutions can likely achieve the same great results. In that context, Our Lady of Victory church, like many other local and international churches, has chosen to use technology to better serve the needs of its parishioners and to make sure they get all the necessary and needed information that keep them in the loop and always engaged and involved.
In the past few months, the people at Our Lady of Victory church have been relentlessly working to make some profound changes and improvements to the church's communication system in order to better serve the parishioners. Lots of efforts and love have been poured into the work for the sole purpose of making the communication process more efficient and engaging. One of the prominent changes that the church made has been its new website. Our Lady of Victory church's website has undergone a complete facelift. It not only looks great and attractive, but more importantly, it has now become the main communication hub for the church. From there, all the church's basic and vital information comes out to the public. Moreover, various external links have been integrated into the website, which makes it a center of news and information for Our Lady of Victory Maronite Church parishioners.
That being said, there are 6 ways parishioners, staff members and all the faithful can stay connected with Our Lady of Victory Maronite Church:
1- Website: http://olovpittsburgh.org
2- Facebook: olovpgh
3- Newsletter: http://eepurl.com/b_Derr
If you would like to get Our Lady of Victory church's news directly to your inbox, you can subscribe to the church's newsletter from 2 different places:
The website's page sidebar: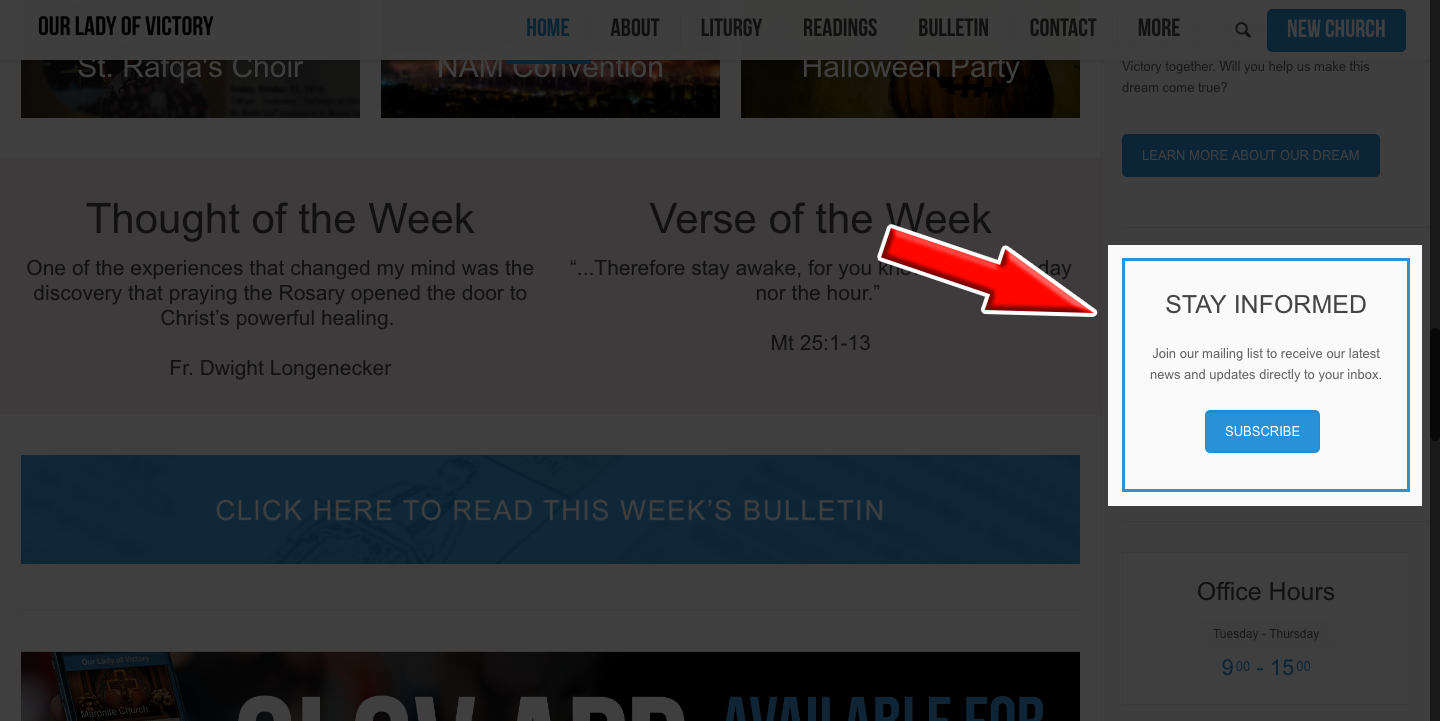 The newsletter signup form can be found on the sidebar of every page of the website, except the CONTACT page.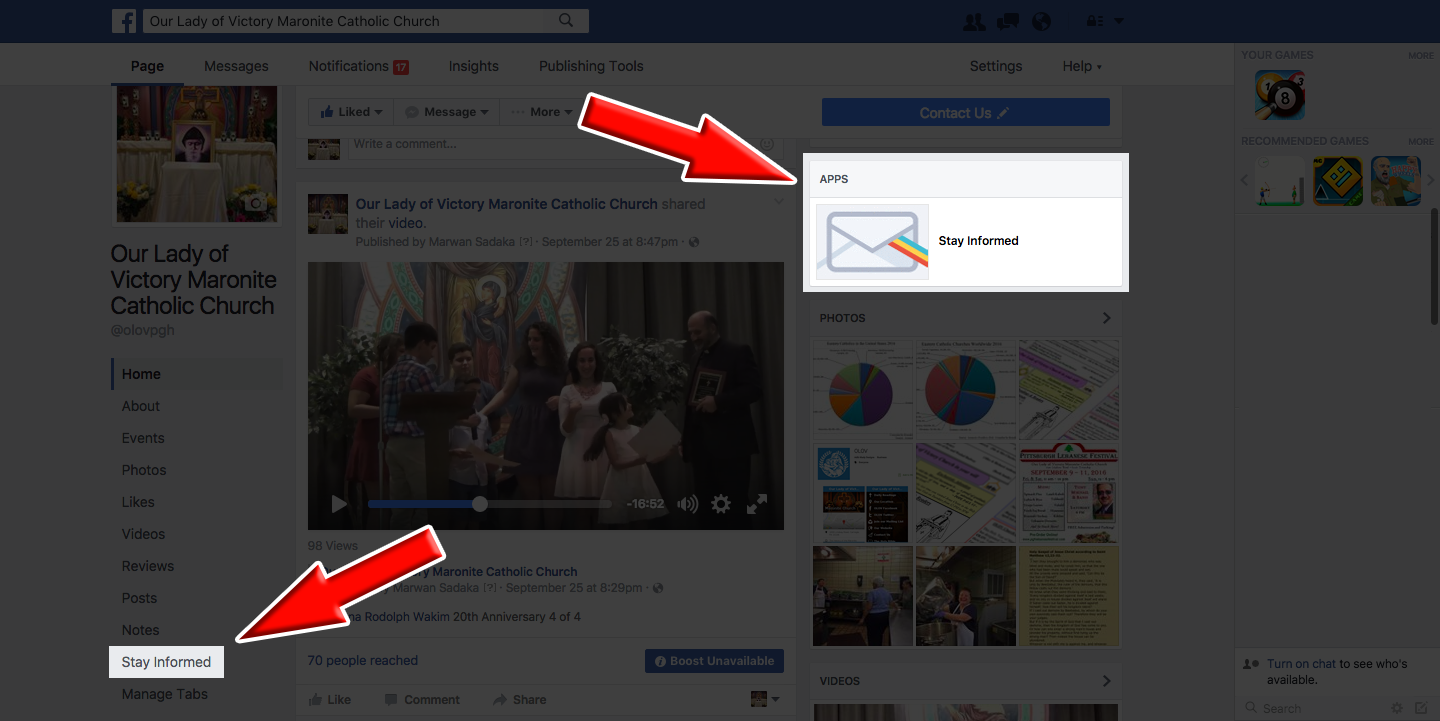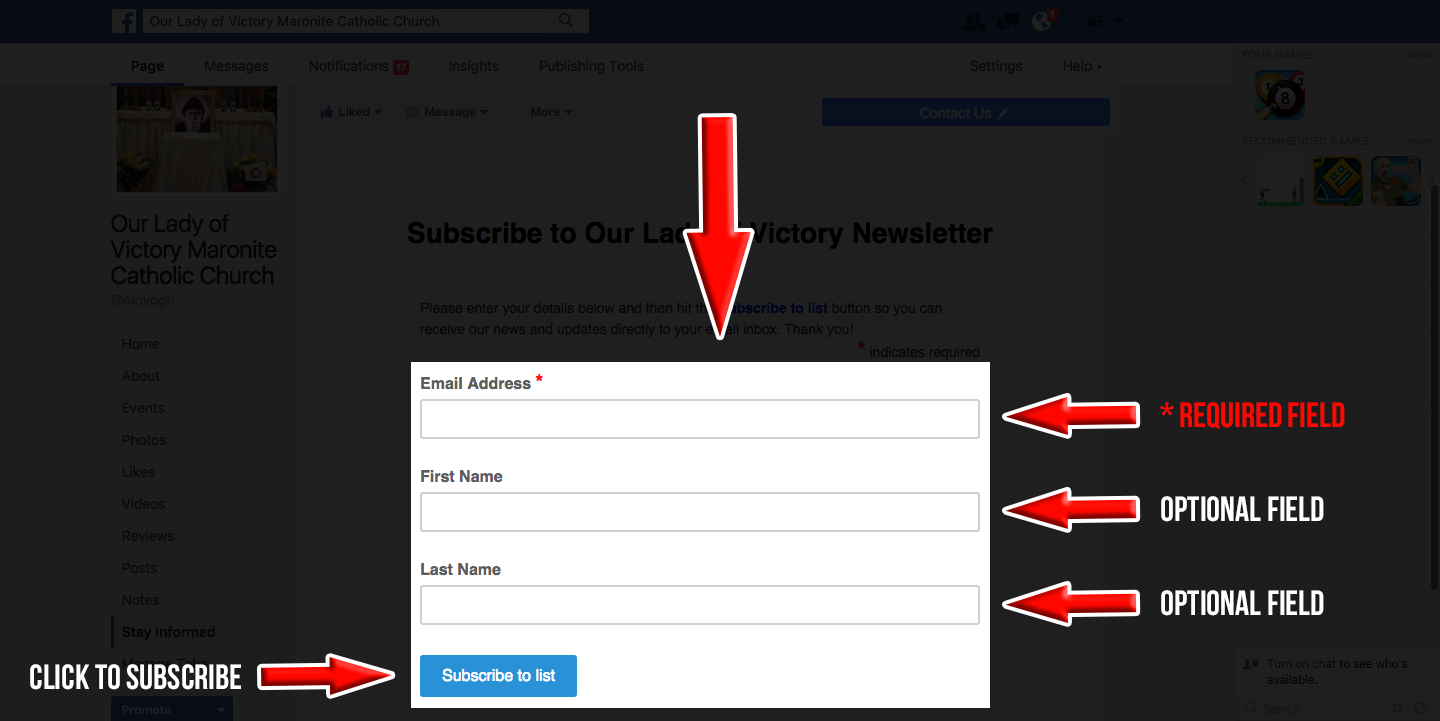 You also have the option to subscribe to Our Lady of Victory church newsletter from the church's Facebook page. Just look for the tab named Stay Informed on either side of the page. Click on the tab and fill in the form, then hit the Subscribe to list button. That's it! Piece of cake, no?!
4- Mobile App:
We recently launched a mobile application called OLOV that you can install on your smartphone for free. The application's features enable you to stay connected with Our Lady of Victory church from wherever you are. The app has a load of great features such as the weekly bulletin, events, photos, daily readings, the Holy Bible, Church news, video and more. One of the greatest features is that you can receive text notifications to your mobile device, like important reminders, announcements of upcoming events, and much more, even if the app is not currently open on your device. Just make sure to connect your mobile device to the internet, either through WiFi or Cellular Data. Otherwise, the app will not work.
To download our OLOV mobile app, You can either:

Note that you'll need a QR code reader app in order to be able to scan the QR code image. If you don't have a QR code reader app already installed on your device, check out this page (for Android users) and see which one works best for you. For iOS users, this app works very well, or you can choose any other app you like from the App Store. Just make sure to enter "QR scanner and reader" as your search query.
5- Twitter: @OLOVPittsburgh
That's all for now. Keep these 6 ways in mind and use them very often, because you never know when you might miss an important event! Oh, and remember: stay informed!